As part of Co:LAB Festival 2018
Drawings for AFTER BIRTH
by Naomi Kendrick
These drawings by Naomi Kendrick have either inspired the writing (Nicola Schofield) and music (Jennifer Hardy) in After Birth or have been drawn directly in response to the writing. Set Designer David Haworth has created this beautiful space in which to house them.
Through my drawings I explore and articulate the things that are familiar to us all, the sensations, emotions and patterns of thought that make us who we are, but that may lack a recognisable form, a name even.
Through cracked graphite lines, crumpled paper surfaces and the softness of pastel I have attempted to give shape to the constantly shifting internal landscape that life, motherhood, and a sometimes fractured mind has created for me.
Drawings by Naomi Kendrick
Exhibited at Co:LAB Festival 2018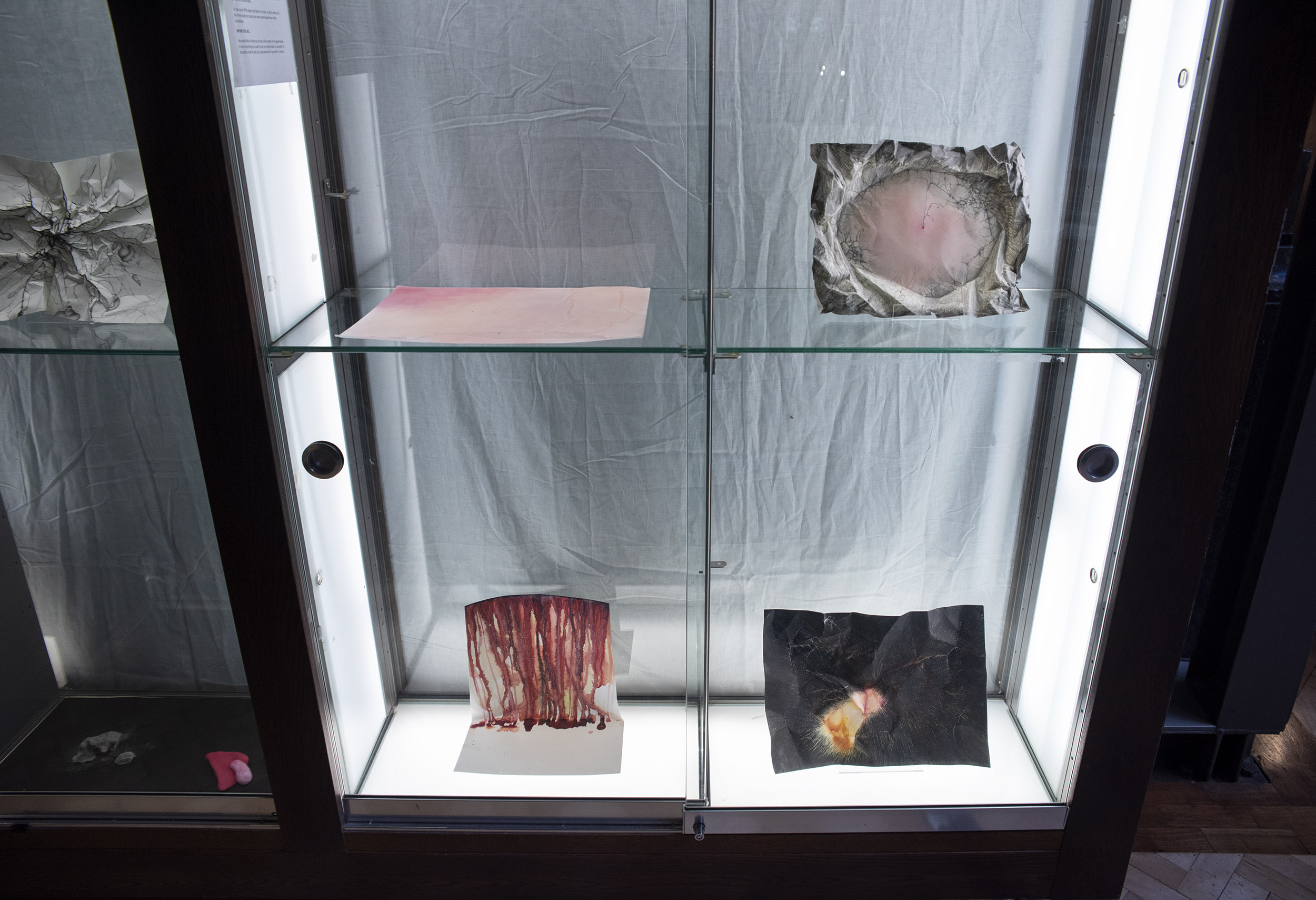 Set Design for AFTER BIRTH
by David Haworth
Designing After Birth for Co:LAB was an interesting and wonderful experience for me. In the past I have designed many sets for theatre productions inspired by artists and art. One of the first things I do when designing a play based in a certain country or period, is to look at fine art from that specific location or time. I find fine art can give so much information and inspiration for set design and often the tone and colour of a show can be found in unexpected places.
With Co:LAB I had the opportunity to work with a fine artist who is living and local! In fact, Naomi Kendrick lives just a few stops down on the bus route from me and I was able to visit her studio and talk about the process and techniques she uses to create her art. This was a unique opportunity for me to see how another artist interprets or responds to a piece of theatre, namely Nicola's monologues, in a non-theatrical way. This project produced such a creative melting-pot; the words inspired the art which in turn helped inspire the original music, again inspiring the words and then my contribution was inspired by all three.
I had a brief that split into two clear areas; create an installation that contained Naomi's art work and represented a safe space where people could go and see the art, hear the music and reflect on the issues and messages of the piece. Secondly, I needed to design the setting for the performance of After Birth, the monologues, within this space.
Firstly I was given a room, the lounge at the Royal Exchange, to work with. This was a fairly ordinary room, with no natural light, with oddly coloured walls, random furniture, bad lighting, large display cases, pictures and a TV up on the wall. On first sight this did not look a theatrical space at all! My challenge was to strip the room back to a white box and build from there. We wanted a safe space that was intriguing, calm, thought provoking and forming an appropriate background for the monologue performance.
A lot of Naomi's work is on a thick drawing paper which comes in wide rolls, her technique involves screwing up the paper then painstakingly drawing around the folds and creases she has randomly created. My main design idea was to cover all the walls in the room with this thick paper, treated in a similar way with folding and creasing but then painted on a large scale to replicate Naomi's work. In all I used almost 60 square meters of paper to cover the room. Once treated with the folding and painting it was hung up and I then painted lines from the monologues around the space. I also replicated one specific work by Naomi which formed a curved backdrop to the performance space which was also defined by the paper coming from the wall and continuing onto the floor beneath where the actor was positioned.
The overall effect I thought worked really well; it opened up the room, making it look much bigger, while keeping a sense of intimacy. The subtle lighting using Fairy lights, night lights and LED theatre lights meant the space felt safe and magical whilst dealing with the very serious subject of PND. I think the background also set off the pieces of actual art by Naomi very well.
Working in this way has opened my eyes to the potential of collaborative work between artists of different disciplines, in a theatrical context, this is something I will explore further.